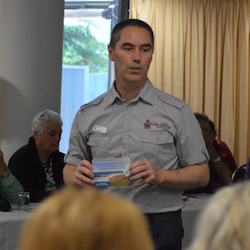 Trainers Workshops
All trainers are invited to register for our up coming workshops.
Click here
to register. These workshops will focus on
Bronze Medallion
and
Pool Lifeguard
, particularly for those who deliver competency based training.
Workshop dates:
Tuesday 24/7/2018, Dunlop Park Memorial Pool (Brisbane)
Wednesday 25/7/2018, Tweed Regional Aquatic Centre, Murwillumbah (Gold Coast)
Thursday 26/7/2018, New venue Fairholme College, Toowoomba (Darling Downs)
Saturday 28/7/2018, Brisbane Grammar Swimming Pool (Brisbane)
Sunday 29/7/2018, Burpengary Aquatics (Brisbane North / Sunshine Coast)
Saturday 4/8/2018, Cairns, venue to be confirmed (North Qld)
Sunday 5/8/2018, New venue Castle Hill PCYC, Townsville (North Qld)
Tuesday 31/7/2018, Maryborough Aquatic Centre (Fraser Coast)
Click here to register
---
GoodSAM®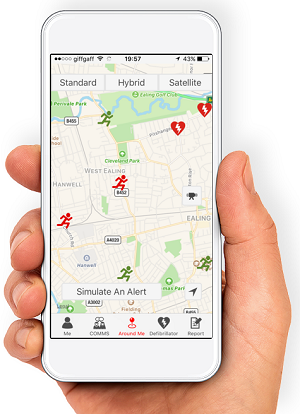 GoodSAM
is the world's most advanced emergency alerting and dispatching platform. GoodSAM is set up to work with ambulance and pre-hospital services to enable qualified bystanders to provide life saving care in emergencies. The app enables those with a Royal Life Saving First Aid certificate to register on the app and help the community. GoodSAM is also the world's largest public AED Registry, and have also launched the world's first mobile AED tracking system.
The app allows alerters to dial the emergency services, and at the same time notify nearby qualified responders (including those with a First Aid certificate) of a medical emergency. By alerting responders of an emergency, GoodSAM connects those in need with those who have the skills to provide critical help before the emergency services arrive.
Royal Life Saving Queensland is the first Queensland organisation to register with GoodSAM. Holders of a current Royal Life Saving Queensland First Aid certificate are able to register as a responder on the app.
Please consider
downloading
the app and registering as an Alerter or Responder. Click
here
for more information.
---
Alcohol and Drowning

Download our latest research information
here
.
New research reveals about as many as one‐in‐six people who swim in rivers is under the influence of alcohol. A study conducted by RLSS and James Cook University surveyed locals and tourists at four river locations (one in Queensland). Researchers used a breathalyser to gauge if people were swimming under the influence of alcohol. A total of 684 people were surveyed and breathalysed across 16 days at the four research sites. Amy Peden (National Manager of Research and Policy) said the study found 16 percent (1 in 6) of swimmers recorded a positive blood alcohol content (BAC) and seven percent were over the legal driving limit.

Media Release - One in Six.
In the past decade, 1,995 men have drowned. Men are four times more likely to drown than women, with males accounting for 80% of all drowning deaths. A culture of risk taking behaviour among men can be dangerous around water, and when combined with alcohol and/or drugs it is often fatal.
Almost a quarter (24%) of male drowning deaths involved alcohol alone. Of the men who had been drinking and subsequently drowned, 67% would have failed a random breath test with a recorded a blood alcohol content above 0.05%.
Tips For Looking Out For Your Mates:
Stand up to your mates if they suggest swimming or taking out a boat under the influence of drugs or alcohol. "Woah, easy there. Where do you think you're going? Not in your state mate."
Suggest alternative activities away from the water when under the influence of drugs or alcohol
Challenge your mates to a round of ping pong, watch your favourite sport on the tele, or take a good ol' nap.
Enjoying the water before any drugs alcohol consumed
Not leaving them alone if they're under the influence around water
KEY FACTS
Download our factsheet
here
.
1,995 men aged 15 years and over have fatally drowned between 1 July 2007 and 30 June 2017
464 cases were known to involve alcohol (24%)
436 cases were known to involve drugs (22%)
726 cases were known to involve alcohol and/or drugs (37%)
Men aged 25-34 account for 19% of all male drowning deaths.
46% of men aged 25-34 years who drowned were known to involve alcohol and/or drugs (166 deaths out of 361)
47% of male drowning deaths in rivers, creeks and streams were known to involve alcohol and/or drugs (261 deaths out of 556)
More Information
---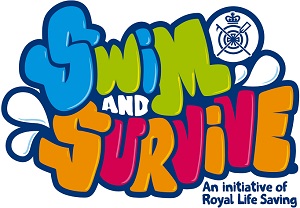 Swim & Survive
Is your school registered for the Swim and Survive program? Did you know the Swim and Survive program is essentially free of charge?
We provide partners free lesson plans, certificates and support to deliver the swim and survive program. Your school can register to deliver the swim and survive program
here
. You can also get free resources
here
.
Swim and Survive FREE workshops
You can register for the workshop or express interest in future workshops
here
.
Click here to register/enquire
Have more questions, why not
contact us
.
The Swim and Survive Program is proudly supported by the Queensland State Government
---
Drowning in Queensland
During the 2016/2017 year,
73 people drowned
in Queensland waterways. The breakdown of these drownings are show in the graph below.
The 2016/17 result is an increase of 5 death (7%) on the ten year average of 68 deaths. Of the people that drowned, 68% were male.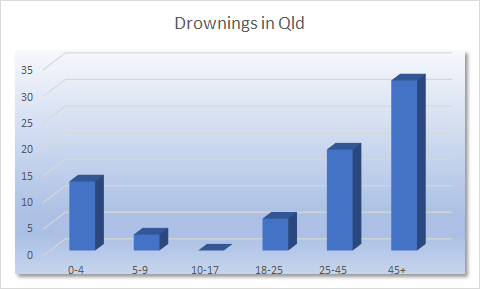 13 drownings occurred in the agre group under 5 years (about half of these were in backyard pools)
3 drownings occurred in the age group 5 to 9 years
No drownings occurred the age group 10 to 17 years
6 drownings occurred in the age group 18 to 25 years
19 drownings occurred in the age group 25 to 45 years
32 drowning occurred in the agre groups 45 years and over
How can you help reduce drowning?
In the under 10 years age group:

Constant active adult supervision. In almost all drownings in this age group, active adult supervision had lapsed or was entirely lacking
Fence the pool and any waterway around children
Teach kids water safety and how to swim & survive


Swimming and survival lessons are an important part of the strategy to prevent drowning, but not the single solution. Royal Life Saving has a fantastic Swim & Survive program (also called Love-2-Swim) which is provided free of charge to registered providers in Queensland. More information can be obtained at this link here



In the over 14 years age group, teach kids and adults how to swim, survive and rescue. We recommend a Bronze Medallion Course which teaches swimming, waters safety and general rescue skills. You can enquire or enrol in a Bronze Medallion course now, click here to enquire.
Source:
National Drowning Report 2017
National Drowning Report 2017, Queensland Extract
NEWS
---
Pool Plant Operator Course
Pool Plant Operator courses $540
Thursday 2/8/2018 & Friday 3/8/2018
Click
here
to register or enquire
Course Brochure
.
---
NEWSLETTER
Please download our
June 2018 Newsletter
.
View older newsletters
here
.
Click
here
to subscribe to our mailing list.
---
POSITION VACANT
Admin Officer (Casual)
Download Position Description
Apply with Resume & Qualifications to email:
executive@rlssq.com.au
---
Membership Renewal
Membership renewal is now due. If you are an existing member, please download a membership renewal form
here
, complete the form and send it back to us.
Competency Based Trainers will also need to complete a new
Trainers Agreement for 2018-19
.
New members, please use
this form
.
Members of Queensland Lifeguard League, please complete
this form
.
---
LET US KNOW
Has a staff member of the Society provided you excellent service? If so, please let us know by filling in
this
online form.
---
PUBLIC COURSES
We are now holding public courses at Burpengary. Click
here
to find out course dates and more information.
---
ONLINE FEEDBACK
Please let us know your feedback (good or bad).
Click
here
to fill out an online form.
---