Training Course are Back!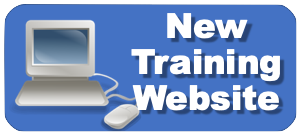 Click here to search or register for a course
using our new training website
COVID-19 Updates & Information
Royal Life Saving has put all our COVID-19 resources in one place. Click on the button below to open our
COVID-19 resource page
.
---

Frequently Asked Questions about Resuscitation during COVID-19 Pandemic
The Australian Resuscitation Council recognises the ethical dilemmas created by attempting to balance the needs of rescuers to avoid COVID-19 infection and potential negative impacts on the collapsed person caused by changes to the resuscitation process.
Download the
ARC Frequently Asked Questions here
.
---
Royal Life Saving to Commence Training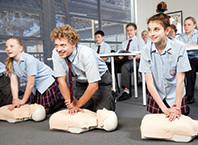 Royal Life Saving Executive Director Mr Paul Barry announced today (15 May 2020) that Royal Life Saving Queensland will re-commence our training and assessment services.
Mr Barry advised trainers at 5pm this afternoon, that training services will re-commence, however trainers must abide by all Queensland Government guidelines in repsect to the COVID-19 pandemic. Trainers will need implement stringent safe work practices including social distancing, use of PPE and contact tracing measures.
We will be releasing course dates for our popular courses such as CPR, First Aid and Pool Lifeguard over the next few days. Please check our website early next week for more details.
Note: This statement is current as at 5pm (AEST) on 15 May 2020
---
Updated Note on COVID‐19 Advice for Aquatic Industry and Swim Schools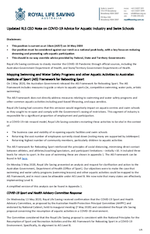 Royal Life Saving continues to closely monitor the COVID‐19 Pandemic through official sources, including the Australian Government Department of Health, and State/Territory Government Departments of Health.
Royal Life Saving has updated its CEO note on COVID‐19 Advice for Aquatic Industry and Swim Schools.
This statement has information on mapping swimming and water safety programs and other aquatic activities to the Australian Institute of Sport (AIS) Framework for rebooting sport
Download our statement
here.
Note: This position is current as at 10am (AEST) on 14 May 2020
---
Update to GSPO for COVID-19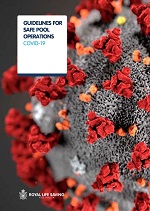 The new guidelines now form part of the
Guidelines for Safe Pool Operations (GSPO)
and provide specific advice to owners and operators of aquatic facilities on how to manage the risk of COVID-19 as they look to reopen their businesses in the near future. Craig Roberts, the National Manager of Operations for RLSSA and Chair of the NAISC, said "This nationally agreed guidance is to be welcomed in these uncertain times, and gives the aquatic industry sector a consolidated and consistent roadmap to managing the risks associated with COVID-19."
Royal Life Saving is providing this chapter of the GSPO free of charge.
Click here to lean more
---
Royal Life Saving Statement on COVID-19 and the Aquatic Industry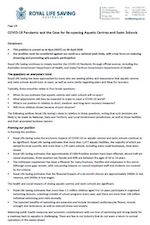 It is a question everyone is asking:
when can aquatic centres and swim schools safely reopen?
Balancing public health measures and economic considerations with our love of swimming is clearly challenging. Our commitment to industry remains steadfast, but of course community safety is paramount.
Read Royal Life Saving's recommendations and suggested roadmap to recovery at:
---
Cert III and Cert IV in Swimming Pool & Spa Service
Royal Life Saving is offering the following courses:
CPP31218 Certificate III in Swimming Pool and Spa Service
CPP41319 Certificate IV in Swimming Pool and Spa Service
View the Course Brochure
here
which includes more details and information about the course.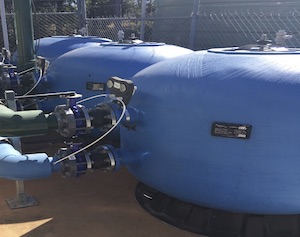 ---

Course Dates:
Monday 31 August 2020 to Friday 11 September 2020.
The course is subject to minimum number which will be confirmed one week before course commencement.

---

Course Venue:
The Plantation, 1204 New Cleveland Road, Gumdale QLD

---

Course Cost:
$3,600.00 (including GST)
However 10% discount (so the course fee will be $3,240.00) if paid upfront

---

Enquire:
Download the course enrolment form here, complete the form and send it to us.
We will contact you following receipt of the form and discuss the course with you.
---
Royal Life Saving Launches Water Safety Activities for Kids
Royal Life Saving has some excellent educational resources that can be used by parents and teachers for Health and Physical Education and cross-curricula learning outcomes.
These will aid students in developing their knowledge and understanding in swimming and water safety as well as basic lifesaving and emergency care. Access to these resources are
FREE OF CHARGE
and can easily be distributed to students, shared online, downloaded or used via our e-learning platform.
Teacher guides, instructions and additional information is provide to help teachers and parents use these resources effectively.
---
Out of Hospital Cardiac Arrest Guidance during COVID-19 (Coronavirus) Pandemic
The
Resuscitation Council (UK)
have released a video guide for out of hospital cardiac arrest and provision of CPR during the COIVID-19 pandemic.
Many people are concern about the risk of transmission of COVID-19 (Coronavirus), but we wish to emphasise the crucial importance of doing CPR for the person in cardiac arrest.
We also suggest that you carry PPE (a disposable CPR mask and gloves) with you during this time. Don't forget the first step in CPR is to check for
D
anger and remove unreasonable risks to you, the patient and bystanders. This could be by using PPE and following the advice in the video.
Remember, the
Australian Resuscitation Council
say
"Any Attempt at Resuscitation is Better Than No Attempt"
.
---
Position Statement on Re-Accreditation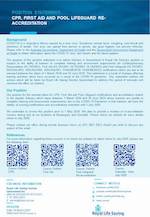 Royal Life Saving has issued a
Position Statement
on the re-accreditation of Lifeguard who work in the aquatic industry. The renewal dates for CPR, First Aid and Pool Lifeguard certifications and accreditation related to the Aquatic Industry which lapse between 1 March 2020 and 30 June 2020 where trainees are unable to complete training and assessment requirements due to the COVID-19 Pandemic is that trainees will have the validity of existing certifications and accreditations extended until 1 July 2020.
We undertake to review this position prior to 1 May 2020. We plan to provide a number of re-accreditation courses during July at our locations at Burpengary and Gumdale. Please check our website for more details closer to July 2020.
Download our
Position Statement here
.
---
Position Statement: Pool Operator Training
Royal Life Saving has released a
Position Statement
in respect to the qualifications required when operating a commercial aquatic facility. This statement is a result of the release of Queensland Health's
water quality guidelines for public aquatic facilities
(dated December 2019). The purpose of the guideline is to reduce risk to public health and the focus is on water quality associated risks .
Our Position
In accordance with Queensland Health's water quality guidelines
(P42)
for public aquatic facilities our position is that all staff who operate aquatic facilities undergo appropriate training for the risk level of the facility.
The minimum standard for aquatic facilities is for staff to undertake a short course in Pool Plant Operations which includes the following units of competence:
SISCAQU001 Test Pool Water Quality
SISCAQU003 Maintain Aquatic Facility Plant and Equipment
SISCAQU004 Develop and Implement Pool Water Maintenance Procedures
SISCAQU005 Develop and Implement Aquatic Maintenance Procedures
BSBRSK401 Identify Risk and Apply Risk Management Processes
(click here for more information)
Please
Contact Us
for more information.
---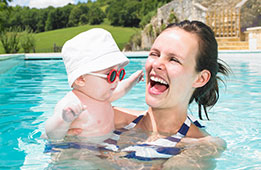 Is your Home Swimming Pool Safe?
Download our free
Home Pool Safety Checklist
and check if your swimming pool is safe. You can order supplies from the
Life Saving Shop
or book into a CPR course
here
.
Contact us
for more information.
---
National Drowning Report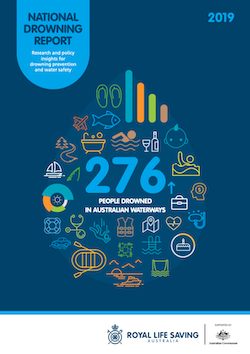 Click here
to download the 2019 National Drowning Report.
Click here
to see the Queensland summary.
The Royal Life Saving National Drowning Report identified 64 drowning deaths occurred across Queensland in 2018/19, 86% of which were males and 39% were in rivers and creeks. Nine children under the age of 5 drowned, reinforcing the importance of supervising children around water.
Of these, 123 deaths (45%) occurred over the summer period, which is a 17% increase compared with the 10‐year average. Overall, 101 drowning deaths occurred in inland waterways and 31 in swimming pools. There were 122 coastal drowning deaths, which includes 71 on beaches, 22 at rock/cliff locations and 18 offshore. Over 80% of total drowning deaths were male.
Royal Life Saving Queensland CEO Paul Barry said "Royal Life Saving is urging Queenslanders to supervise children around water, ensure their pool fence is in good working order in the lead up to summer, and to create safe play areas for children on properties with dams".
32% of Queensland drowning deaths were young adults between the ages of 18 to 34 years. "The report reinforces the importance of ensuring all Australians have the swimming and water safety skills to enjoy our beautiful waterways safely" said Mr Barry.
To stay safe around water, Royal Life Saving and Surf Life Saving Australia urge all Australians to:
Supervise children at all times around water
Learn swimming and lifesaving skills
Wear a lifejacket when boating, rock fishing or paddling
Swim at a patrolled beach between the red and yellow flags
Avoid alcohol and drugs around water
(click here for more reports)
---
GoodSAM®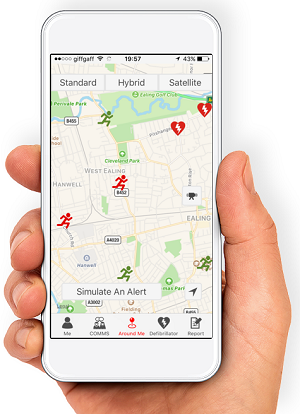 GoodSAM
is the world's most advanced emergency alerting and dispatching platform. GoodSAM is set up to work with ambulance and pre-hospital services to enable qualified bystanders to provide life saving care in emergencies. The app enables those with a Royal Life Saving First Aid certificate to register on the app and help the community. GoodSAM is also the world's largest public AED Registry, and have also launched the world's first mobile AED tracking system.
The app allows alerters to dial the emergency services, and at the same time notify nearby qualified responders (including those with a First Aid certificate) of a medical emergency. By alerting responders of an emergency, GoodSAM connects those in need with those who have the skills to provide critical help before the emergency services arrive.
Royal Life Saving Queensland is the first Queensland organisation to register with GoodSAM. Holders of a current Royal Life Saving Queensland First Aid certificate are able to register as a responder on the app.
Please consider
downloading
the app and registering as an Alerter or Responder. Click
here
for more information.
---
Alcohol and Drowning

Download our latest research information
here
.
New research reveals about as many as one‐in‐six people who swim in rivers is under the influence of alcohol. A study conducted by RLSS and James Cook University surveyed locals and tourists at four river locations (one in Queensland). Researchers used a breathalyser to gauge if people were swimming under the influence of alcohol. A total of 684 people were surveyed and breathalysed across 16 days at the four research sites. Amy Peden (National Manager of Research and Policy) said the study found 16 percent (1 in 6) of swimmers recorded a positive blood alcohol content (BAC) and seven percent were over the legal driving limit.

Media Release - One in Six.
In the past decade, 1,995 men have drowned. Men are four times more likely to drown than women, with males accounting for 80% of all drowning deaths. A culture of risk taking behaviour among men can be dangerous around water, and when combined with alcohol and/or drugs it is often fatal.
Almost a quarter (24%) of male drowning deaths involved alcohol alone. Of the men who had been drinking and subsequently drowned, 67% would have failed a random breath test with a recorded a blood alcohol content above 0.05%.
Tips For Looking Out For Your Mates:
Stand up to your mates if they suggest swimming or taking out a boat under the influence of drugs or alcohol. "Woah, easy there. Where do you think you're going? Not in your state mate."
Suggest alternative activities away from the water when under the influence of drugs or alcohol
Challenge your mates to a round of ping pong, watch your favourite sport on the tele, or take a good ol' nap.
Enjoying the water before any drugs alcohol consumed
Not leaving them alone if they're under the influence around water
KEY FACTS
Download our factsheet
here
.
1,995 men aged 15 years and over have fatally drowned between 1 July 2007 and 30 June 2017
464 cases were known to involve alcohol (24%)
436 cases were known to involve drugs (22%)
726 cases were known to involve alcohol and/or drugs (37%)
Men aged 25-34 account for 19% of all male drowning deaths.
46% of men aged 25-34 years who drowned were known to involve alcohol and/or drugs (166 deaths out of 361)
47% of male drowning deaths in rivers, creeks and streams were known to involve alcohol and/or drugs (261 deaths out of 556)
More Information
---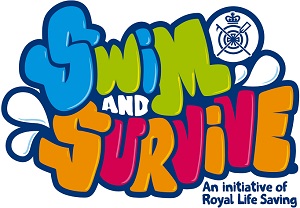 Swim & Survive
Is your school registered for the Swim and Survive program?
We provide partners free lesson plans, certificates and support to deliver the swim and survive program. Your school can register to deliver the swim and survive program
here
. You can also get free resources
here
. Have more questions or would like to booik a workshop, why not
contact us
.