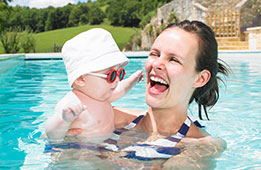 The Royal Life Saving Society (RLSS) is a public benevolent institution with Her Majesty The Queen as Commonwealth Patron. RLSS has a leadership role in drowning prevention in 27 Commonwealth Countries; the Queensland Branch was established in 1905 and is the oldest life saving society in Queensland. Our moto: 'Whomsoever you see in distress, recognise in them a fellow human being'.
By joining the RLSSQ, you are signifying that you desire to be part of a society with royal patronage and for the charitable purpose of drowning prevention.

Please complete the Membership Application form below and forward it to the Society.
By registering as a Member, Trainer and/or Assessor, you will be governed by the rules, regulations or laws governing your conduct as a member of the Society; also to maintain the integrity of the Royal Life Saving Society and strive to achieve it's goals.
---
Membership Forms
Membership Fee: $44.00
Please view our Trainers Information Sheet.
Other membership options
Joining a Club, rather than the Society, may be more suitable to you.
| | |
| --- | --- |
| Queensland Lifeguard League Inc: | The Queensland Lifeguard League is an affiliated Club designed for lifeguards and other life savers, who are under 18 years of age and/or not associated with an existing Club, and wish to compete in Royal Life Saving competitions. Download a membership application form here and forward it to the Society or the Sport Liaison Officer. |
| Another Affiliated Club: | Please contact one of the Affiliated Clubs directly. Each Club has different membership criteria and many are based in geographic locations. |
Click here for membership policies
Important Membership Policies
All members of Royal Life Saving Society Queensland are expected to follow the society's policies and procedures that may be released from time to time. Generally speaking, conduct of a member is expected to be the same as would be expected at a workplace or in a school.
Specific Policies - Queensland Branch
The following policies have been prepared specifically for Queensland Branch. Whilst these policies are mostly applicable to staff, some also apply to members and trainers. These policies are subject to variation at any time.
The following policies were applicable from 2018 to October 2023:
Our Foundation Fund
Foundation Fund Rules, Charter & Investment Policy
Child Protection Policy
RLSSQ Policy - Child Protection (RLSSQ Policy)
RLSSQ Policy - Child Protection (Policy for Affiliated Clubs)
Gender Equity Plan
RLSSA (National) Policy
The below policies have been issued by Royal Life Saving Society Australia and are applicable to all branches of the Society. Please note that Queensland policy's and procedures have precedence to these polciys.