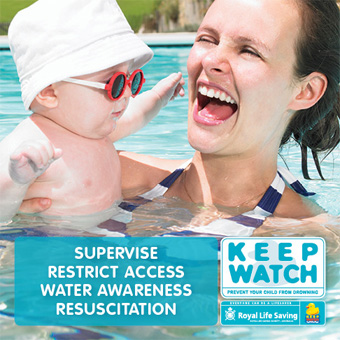 KEEP WATCH
Keep Watch aims to prevent drowning deaths of children under five years of age in all aquatic locations. For nearly 20 years Keep Watch has been educating Australian parents and carers on how to keep their children safe when in, on or around the water. Drowning is one of the leading causes of death in children 0 to 4 years of age. Between 2002 and 2015, 403 children under the age of five drowned in Australian waterways. 78% of these deaths were the result of falls into water and over half occurred in home swimming pools.
The Keep Watch program has four key drowning prevention Actions.
These should not be used individually but together to maximise child safety,
if one line of defence fails, the other prevention measures will be actively working to prevent your child from drowning.
The four key actions are:
Home Pool Safety App
Download the PoolSafety App and use the checklist to identify a problem, take a photo and email a report. The PoolSafety App recommends actions to make your home pool safer. You can use the report as a record or to seek help to fix the problem.
Royal Life Saving Fact Sheets
Indigenous Fact Sheets
Languages other than English
Water Smart (Home Tips)
Water Smart (Safety Tips)
Other Factsheets