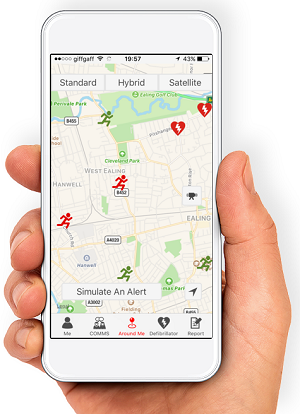 GoodSAM is the world's most advanced emergency alerting and dispatching platform. GoodSAM is set up to work with ambulance and pre-hospital services to enable qualified bystanders to provide life saving care in emergencies. The app enables those with a Royal Life Saving First Aid certificate to register on the app and help the community. GoodSAM is also the world's largest public AED Registry, and have also launched the world's first mobile AED tracking system.

The app allows alerters to dial the emergency services, and at the same time notify nearby qualified responders (including those with a First Aid certificate) of a medical emergency. By alerting responders of an emergency, GoodSAM connects those in need with those who have the skills to provide critical help before the emergency services arrive.

Royal Life Saving Queensland is the first Queensland organisation to register with GoodSAM. Holders of a current Royal Life Saving Queensland First Aid certificate are able to register as a responder on the app.

Please consider downloading the app and registering as an Alerter or Responder. Click here for more information.