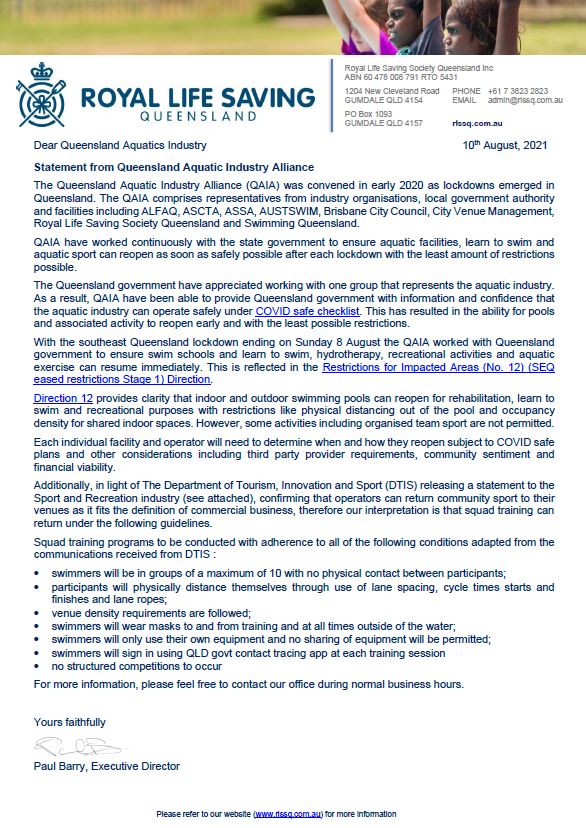 Statement from Queensland Aquatic Industry Alliance
The Queensland Aquatic Industry Alliance (QAIA) was convened in early 2020 as lockdowns emerged in Queensland. The QAIA comprises representatives from industry organisations, local government authority and facilities including ALFAQ, ASCTA, ASSA, AUSTSWIM, Brisbane City Council, City Venue Management, Royal Life Saving Society Queensland and Swimming Queensland.
QAIA have worked continuously with the state government to ensure aquatic facilities, learn to swim and aquatic sport can reopen as soon as safely possible after each lockdown with the least amount of restrictions possible.
The Queensland government have appreciated working with one group that represents the aquatic industry. As a result, QAIA have been able to provide Queensland government with information and confidence that the aquatic industry can operate safely under COVID safe checklist. This has resulted in the ability for pools and associated activity to reopen early and with the least possible restrictions.
With the southeast Queensland lockdown ending on Sunday 8 August the QAIA worked with Queensland government to ensure swim schools and learn to swim, hydrotherapy, recreational activities and aquatic exercise can resume immediately. This is reflected in the Restrictions for Impacted Areas (No. 12) (SEQ eased restrictions Stage 1) Direction.
Direction 12 provides clarity that indoor and outdoor swimming pools can reopen for rehabilitation, learn to swim and recreational purposes with restrictions like physical distancing out of the pool and occupancy density for shared indoor spaces. However, some activities including organised team sport are not permitted.
Each individual facility and operator will need to determine when and how they reopen subject to COVID safe plans and other considerations including third party provider requirements, community sentiment and financial viability.
Additionally, in light of The Department of Tourism, Innovation and Sport (DTIS) releasing a statement to the Sport and Recreation industry (see attached), confirming that operators can return community sport to their venues as it fits the definition of commercial business, therefore our interpretation is that squad training can return under the following guidelines.
Squad training programs to be conducted with adherence to all of the following conditions adapted from the communications received from DTIS :
swimmers will be in groups of a maximum of 10 with no physical contact between participants;
participants will physically distance themselves through use of lane spacing, cycle times starts and finishes and lane ropes;
venue density requirements are followed;
swimmers will wear masks to and from training and at all times outside of the water;
swimmers will only use their own equipment and no sharing of equipment will be permitted;
swimmers will sign in using QLD govt contact tracing app at each training session
no structured competitions to occur
For more information, please feel free to contact our office during normal business hours.
Paul Barry
Executive Director