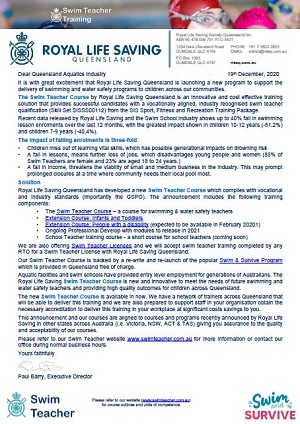 It is with great excitement that Royal Life Saving Queensland is launching a new program to support the delivery of swimming and water safety programs to children across our communities.

The Swim Teacher Course by Royal Life Saving Queensland is an innovative and cost effective training solution that provides successful candidates with a vocationally aligned, industry recognised swim teacher qualification (Skill Set SISSS00112) from the SIS Sport, Fitness and Recreation Training Package. Recent data released by Royal Life Saving and the Swim School industry shows up to 40% fall in swimming lesson enrolments over the last 12 months, with the greatest impact shown in children 10-12 years (-51.2%) and children 7-9 years (-40.4%).

The impact of falling enrolments is three-fold:
Children miss out of learning vital skills, which has possible generational impacts on drowning risk
A fall in lessons, means further loss of jobs, which disadvantages young people and women (85% of Swim Teachers are female and 23% are aged 18 to 24 years.)
A fall in income, threatens the viability of small and medium business in the industry. This may prompt prolonged closures at a time where community needs their local pool most.
Solution: Royal Life Saving Queensland has developed a new Swim Teacher Course which complies with vocational and industry standards (importantly the GSPO).

Read more details about our announcement and our swim teacher courses:

Read our Industry Update