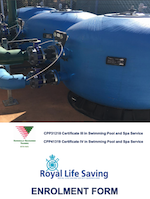 Royal Life Saving is offering the following courses:
CPP31218 Certificate III in Swimming Pool and Spa Service
CPP41319 Certificate IV in Swimming Pool and Spa Service
View the Course Brochure here which includes more details and information about the course.

This course complies with our Position Statement in respect to the qualifications required when operating a commercial aquatic facility. This statement is a result of the release of Queensland Healths water quality guidelines for public aquatic facilities (dated December 2019). The purpose of the guideline is to reduce risk to public health and the focus is on water quality associated risks.
Course Dates:
Monday 12 April 2021 to Wednesday 21 April 2021.
The course is subject to minimum number which will be confirmed one week before course commencement.
Venue:
The Plantation
1204 New Cleveland Road, Gumdale QLD
Cost:
$3,600.00 (including GST)
However 10% discount (so the course fee will be $3,240.00) if paid upfront
Enquire:
Download the course enrolment form here, complete the form and send it to us.
We will contact you following receipt of the form and discuss the course with you.