COVID-19 VACCINATIONS: WORKPLACE RIGHTS AND OBLIGATIONS FOR AQUATIC FACILITIES AND SWIM SCHOOLS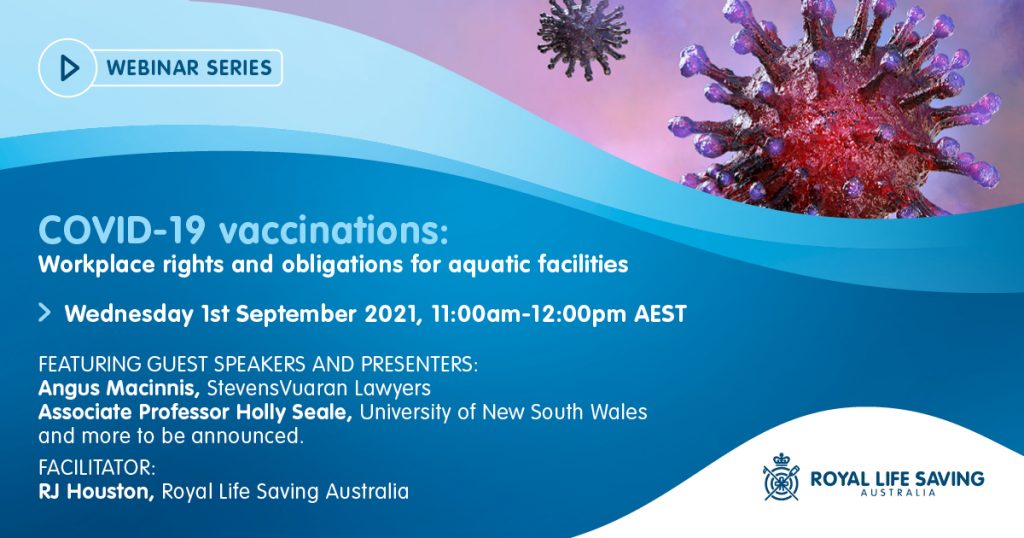 Webinar Details:
Wednesday 1 September 2021, 11:00am-12:00pm AEST
Description:
Royal Life Saving is pleased to facilitate its third Aquatic Industry webinar for 2021-22 and will be joined by practitioners, advocates and experts in the field including:
Angus Macinnis, Director of Dispute Resolution, StevensVuaran Lawyers
Associate Professor Holly Seale, Program Director, Bachelor of International Public Health (BIPH), University of New South Wales
and others
Facilitator:
RJ Houston, National Manager – Aquatics, Royal Life Saving Australia
Registration for this event is essential, please register at the below link.
Webinar Registration:
Contact:

RJ Houston, National Manager – Aquatics
Email: rjhouston@rlssa.org.au
Disclaimer:

This news story is produced by Royal Life Saving and prepared by StevensVuarans Lawyers who have drafted an opinion piece on the likely effect of a potential vaccine mandate within aquatic facilities, swim schools and the aquatic industry.
The article is designed and intended to provide general information only in summary form and current at the time of publication. The contents do not constitute legal or professional advice and are not intended to be a substitute for legal or other professional advice and should not be relied upon as such. You should seek your own legal advice or other professional advice in relation to any matter you or your organisation may have.