The Grey Medallion™ is a water safety and lifesaving skills program for older adults, aimed at reducing the drowning rates and encouraging a healthy, independent and active lifestyle. The program endeavours to teach participants a range of personal survival techniques, provide them with skills to deal with an emergency situation and to develop confidence and competence to enjoy aquatic exercise and other water-based activities safely.
This practical program provides older adults with personal survival techniques, improved swimming skills, skills to deal with emergency situations and a thorough understanding of water safety knowledge in order to reduce the likelihood of drowning.
Unfortunately, older Australians (those aged 55 and over) make up a large proportion of the drowning statistics in Australia and as the population is ageing this continues to increase. According to the 2020 Royal Life Saving National Drowning Report, there were 61 drowning deaths of people aged 65 years and over. Open water environments particularly oceans and rivers are a concern to this life stage and with the diversity of activities they are participating in, drowning prevention becomes a challenge.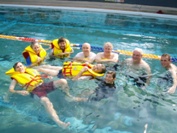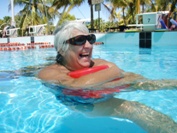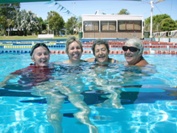 If you are looking to book into a Grey Medallion course happening soon, please click the below link to look at our upcoming dates.
The Grey Medallion program has four main components:
Water Safety Knowledge

Essential water safety information for a range of aquatic locations and recreational activities is the focus for this module. The prevention of emergencies depends on your understanding of, and ability to apply simple water safety actions.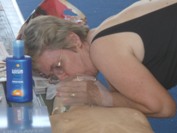 Resuscitation and Emergency Care

Knowing what to do in an emergency situation will more likely result in a positive outcome. The first person on the scene of an emergency is most often a family member so you could one day find yourself needing to provide resuscitation or emergency care.
Aquatic Exercise

Aquatic exercise is ideal for older adults because of its low impact nature making it suitable for both active people and those with restricted mobility. Regular physical activity can reduce the risk of heart attack, improve blood cholesterol, lower blood pressure and even help to prevent falls and injury. Sessions will aim to further develop your swimming skills in a fun and non-threatening way and is tailored to cater for a range of abilities.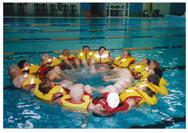 Personal Survival and Lifesaving Skills

Lifesaving skills are not just for those at the local pool or beach. Everybody should have some essential personal survival techniques and basic rescue skills. You never know when these skills may need to be put into practice either to ensure your own safety or to assist somebody else in trouble.
The Grey Medallion program has been developed to be delivered in a flexible manner. The sessions and the modules selected may vary depending on the ability of participants and the aquatic venue. Programs may run over a series of weeks with attendance required on a once a week basis, or they may be conducted using a more intensive format (over 1 day).
If you are looking to order Grey Medallion training resources, please see the below information form.