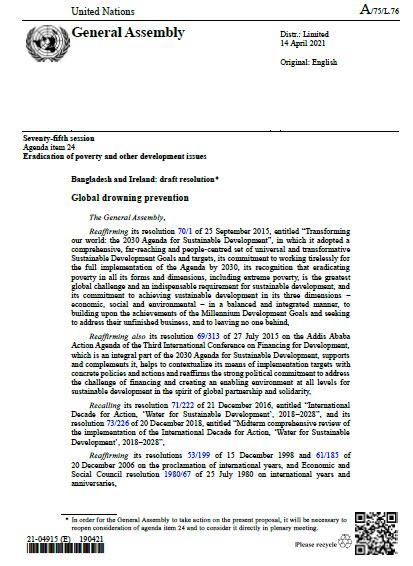 The United Nations passed its first ever Resolution on Global Drowning Prevention (A/75/L.76) during the seventy-fifth session of the UN General Assembly on Wednesday 28th April 2021.
The Resolution was brought to the United Nations by Ireland and Bangladesh, and co-sponsored by 79 countries including Australia. UK charity Royal National Lifeboat Institute (RLNI) have provided tireless support to the process.
The Resolution has been warmly welcomed by the Royal Life Saving Society – Australia, and the hundreds of thousands of people who work or volunteer as lifeguards, lifesavers, and swimming instructors in communities across Australia. We thank the Australian Government for its support.
The Resolution recognised the seriousness of drowning as a public health issue especially in low- and middle-income countries.
The Resolution is inspirational in setting an agenda for countries, UN agencies including the World Health Organization (WHO) and UNICEF, and NGOs like Royal Life Saving to work together to address drowning as an under-recognised public health threat.
The Resolution:
is in response to deep concern that drowning has been the cause of over 2.5 million preventable deaths in the past decade but has been largely under-recognised relative to its impact.
notes that more than 90 per cent of deaths occur in low- and middle-income countries, with Asia carrying the highest burden of drowning deaths by number.
notes that drowning disproportionately affects children and adolescents in rural areas, with many countries reporting drowning as the leading cause of childhood mortality.
clarifies that the official global estimate of 235,000 deaths per annum excludes drownings attributable to flood-related climatic events and water transport incidents, resulting in drowning deaths being underestimated by up to 50 per cent in some countries.
declares that the 25th July every year will be World Drowning Prevention Day and calls on all nations to develop drowning prevention plans.
Australia is well placed to achieve all (and more) of the voluntary actions that the Resolution encourages Members States to adopt.
Australia has well-developed national peak bodies for lifesaving and drowning prevention.
The resolution aligns almost perfectly to the Australian Water Safety Strategy 2030 which was launched in Canberra in March.
All the key WHO recommended interventions are well-addressed across Australia.
Our academic institutions and their approaches to global themes in drowning research are world leading, including teams at The George Institute for Global Health, the School of Population Health, UNSW, and James Cook University.
Australia is well-placed to support international cooperation by sharing lessons learned, and best practices, within and among regions. In fact, our leadership has already contributed through partnerships with the WHO, International Life Saving Federation, and in Bangladesh, India, Vietnam, Thailand, and Indonesia.
We (Royal Life Saving) are most proud of:
Drowning prevention and lifesaving is well recognised and supported by the Australian community. Our nearest neighbours will likely benefit most from a UN elevation of this issue.
Royal Life Saving congratulates the RNLI and their teams for their tremendous effort in achieving this milestone. Many communities affected by drowning and all those who have made drowning prevention their lifelong mission will be forever grateful.
You can review the resolution in the six UN languages here: https://www.undocs.org/en/A/75/L.76
Please don't hesitate to share this excitement with your colleagues, cut and paste from this note as you wish.